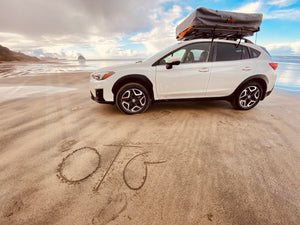 3 Reasons to Rack Your Vehicle Ahead of Summer 2021 with OnTheGo
Summer 2021 is around the corner, and it's going to be better than last year. With everything we've been through since 2020, it's time to get outside and be active this summer. What better way to ensure that than with a roof rack for your vehicle?
Here are three reasons you should outfit your vehicle with an OnTheGo Rack:
Go More
Time to hit the road and go more places, we know you have a bucket list. With a roof rack from OnTheGo, you can use it to mount a tent and bring your crash pad with you. This opens up the door for all kinds of adventure. No more excuses, get OnTheGo! 
Do More
While out on the road, try new things! Ever wanted to kayak? You've got storage for that. Canoeing? Hiking? You're covered with an OnTheGo rack. 
Bring More 
Notorious over packer? With the extra room, you won't need to leave that extra sweatshirt (or suitcase) behind. Need a place to sleep? Install a car tent right atop your rack and save money on travel this summer. Want to bring your surfboard to that beach trip? Strap it down safely and securely on your rack.
Wherever your adventures take you this summer, share your OnTheGo Lifestyle with us by using #OTG503 on Instagram.
Explore our custom rack options by visiting our website at www.onthegoracks.com, or by emailing us at info@onthegoracks.com.
---